Calls on Norcross to Repudiate Campaign Support and Come Clean
Haddonfield, NJ – Bob Patterson, Republican nominee for Congress in New Jersey's 1st District, issued the following statement on Friday:
"Earlier today, federal agents raided the home offices of IBEW Local 98 Business Manager John Dougherty in Philadelphia. It has also come to light that Local 98 supported Congressman Donald Norcross with Independent Expenditures in the past. Because even the appearance of impropriety can shake the confidence of the hard-working members of Local 98 in their leadership and of the people of New Jersey's 1st Congressional District in their congressman, @DonaldNorcrossNJ should immediately repudiate the past support of Local 98 and refuse additional support until the investigation of Dougherty concludes."


The Norcross Brothers -- but especially Donald Norcross in virtue of his office as a Congressman -- must come clean about their relationships with John Dougherty and fully disclose any and all business interests, contracts, campaign contributions, independent campaign expenditures, and/or financial arrangements with those targeted in the on-going FBI investigation.

Background:

In 2015, the INTERNATIONAL BROTHERHOOD OF ELECTRICAL WORKERS LOCAL 98 COMMITTEE ON POLITICAL EDUCATION, of which Dougherty is the Business Manager, made at least one Independent Expenditure on behalf of Donald Norcross: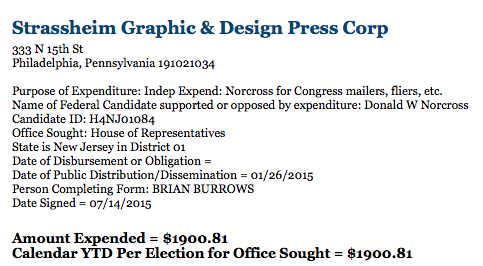 On May 1, 2016, Philadelphia Magazine published an expose on George Norcross entitled, "Norcrossing the Delaware: How South Jersey's Political Boss Is Making His Move on Philly," which read in part:
Norcross is now well entrenched in Philadelphia, and all signs suggest his influence will continue to grow. Businesses and labor unions with close ties to Norcross spent vast sums of money to get Kenney elected, and have teamed up with John "Johnny Doc" Dougherty, the city's building-trades kingpin.


Moreover, John Dougherty has served on the Board of Commissioners of the troubled Delaware River Port Authority (DRPA) from which George Norcross has pocketed hundreds of thousands of dollars in kickbacks not legal in other states.  This waste drew the ire of the NJ State Comptroller in a 2012 report which found, among other things, that "authority commissioners, family members and others [had] free access to its four bridges linking South Jersey with Pennsylvania... robbing the public of $1.2 million."

As the Star-Ledger wrote: 
Turns out, Norcross got kickbacks for steering insurance contracts from the state agency, according to the report. And what makes it worse is that using political juice like this, while a crime in some states such as New York, is apparently legal in New Jersey. That clearly needs to change.

For any questions, please contact Michael D. Byrne at (973) 746-3280.


- 30 - 

Bob Patterson is a candidate for Congress in New Jersey's First Congressional District.  A resident of Haddonfield with his wife, Mary Alice, Bob grew up in Cherry Hill.  He has never held or run for office before and is running on a platform to Make South Jersey Great Again by protecting American jobs, protecting American workers, and protecting America from international threats so that it remains a safe place to live, work and raise a family.  Learn more about Bob and his campaign at bobpattersonforcongress.com.
Do you like this post?